The season two finale of HBO's
Treme
highlights the Jazz Fest reunion season. New Orleans Jazz and Heritage Festival, like Mardi Gras, is when we take stock of who has come home and who's going away, and old friends meet in front of some of the best music in the world. I've been back for almost a year, and seeing Jazz Fest from the inside feels different somehow.
Here's my recap - I didn't catch every word watching the finale at Buffa's Bar & Restaurant because it could not have been more crowded if it tried. The Independence Day episode is aptly titled, "Do Whatcha Wanna" for the Rebirth Brass Band song.
Spoilers commence:
With a fragmenting band, Antoine goes back to his ABC's. Always Book Children (
pictured below
).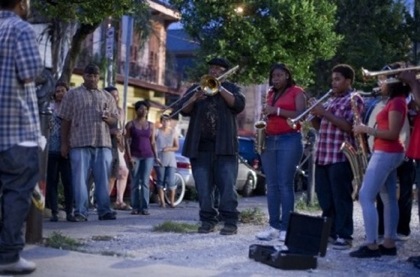 Albert falls for Delmond's "You're Huge in Sweden" $20,000 advance order for his New Orleans based CD. And Delmond moves home to help his father although his New York girlfriend makes it very clear that her apartment does not moonlight as a storage unit.
Nelson is, for the moment, screwed by his association with City Council President Oliver Thomas after insiders who never got the memo that snitches get stitches begin to pull down the New Orleans political establishment. Again.
Terry digs into a languishing evidence room and ties together a series of murders his superiors do not want to solve. With evidence you can see from outer space, aliens could have solved the cases by 2007. The Danziger Bridge shootings are now in the federal judicial system, so anything's possible.
Sonny's date-in-law gives him cautionary statements like, "People do what they want, take what they want and then move on." He has a look at oil leaking into the Gulf of Mexico from a drilling platform, not what you want to see from a passing shrimp trawler. BP spoiler alert: What could possibly go wrong?
Davis loses his band, sees his ex and stays with Annie. They catch Jazz Fest even though he's so stoned he forgets his pot which is a shame. He winds up the episode beautifully at WWOZ-FM, although even if he gets back on board as a DJ he'll still be a volunteer. Cue Aunt Mimi's next madcap scheme.
Anthony Bourdain wrote this episode with David Simon so food talk stayed front and center. Food writer Colleen Rush described one of
Donald Link's
endeavors in
Gourmet
, and TV Link has been singing Janette's praises this season. Jacques and Janette snuggle at Jazz Fest after she scouts potential restaurant locales with her potential backer. A snuggler spoiler photo from the shoot ran locally, so we saw it coming. We also saw them making eyes across appetizers for two years so it wasn't a shocker. Just very sweet.
Speaking of sweet, Toni and Sofia have a night out at the Maple Leaf. Sofia's funky future is in good hands with the ever-charismatic James Andrews and Rebirth. There is still no peaceful resolution between Toni and Terry, leaving their struggle primed for Season Three.
LaDonna experiences the revolving door of New Orleans justice when she catches sight of one of her rapists free and drinking in a bar. As she confronts him, she keeps ending with her shouts with, "ME!" And with that we see her begin to come back to herself. So does her husband Larry who drew the biggest applause of the night announcing:
"We're coming home, all of us. You ain't gonna be who you are otherwise. I see it now."
Staying or going is a day to day decision that's been confronted comprehensively this season on
Treme
. We stayed north for my father's last years post levee fail and came home for my mother-in-law, so it's been an exercise in fairness. What struck me about the show's finale was how many characters talked about coming home when they have stayed so strongly rooted in New Orleans, it's easy to forget they were not truly back.
Maybe that's the lesson at the end of
Treme's
Season Two: you know you're coming home when doing so becomes redundant.