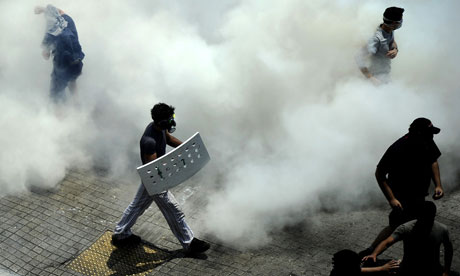 •
Tens of thousands of Greeks have taken to the streets to voice their opposition to a new wave of austerity measures
which will be subject to a vote in parliament on Wednesday and Thursday. A two-day strike called by unions began today. Transport, schools and other services as well as many private businesses were shut as a result of the strike called by ADEDY, the union representing half a million civil servants and GSEE, which represents 2 million private sector workers. Hundreds of flights have been cancelled or rescheduled and protesters have blockaded the port of Piraeus.
•
A minority of protesters were involved in running battles with the police
. Many of them wore crash helmets or bandanas over their faces. They brandished wooden staves, hurled missiles including bricks and molotov cocktails and started fires. Two communications trucks were set on fire and shops were vandalised. The troublemakers, believed to consist mainly of anarchists, also threw smoke grenades and firecrackers. Police fired rounds of teargas leaving the air in central Athens acrid. Police said 18 people were detained, with formal arrest charges laid against five of them, and that four policemen were injured and transferred to a military hospital. There were reports of dozens of people being treated for the effects of teargas in Syntagma Square, which has been the focal point of the protests.